A Brief Introduction to Marketing a Business Online
        Marketing is a huge aspect of running and maintaining a successful business, but marketing is not the same as it was only twenty years ago. Traditional methods of marketing are not as popular as they once were now that the Internet plays a bigger role in all of our lives. Almost everyone has access to the Internet in the palm of their hand with 80% of internet users now owning a smartphone, making it the most popular method for attracting new clients and customers for a growing business.
Traditional Marketing Strategies
        Traditional marketing is still around today because it has proven time and time again that these strategies do attract new clients. Regardless of cost, traditional marketing mediums such as newspaper advertisements, radio ADs, telephone commercials, and phone calls all offer some form of ROI to a business; but it is no longer the best marketing strategy.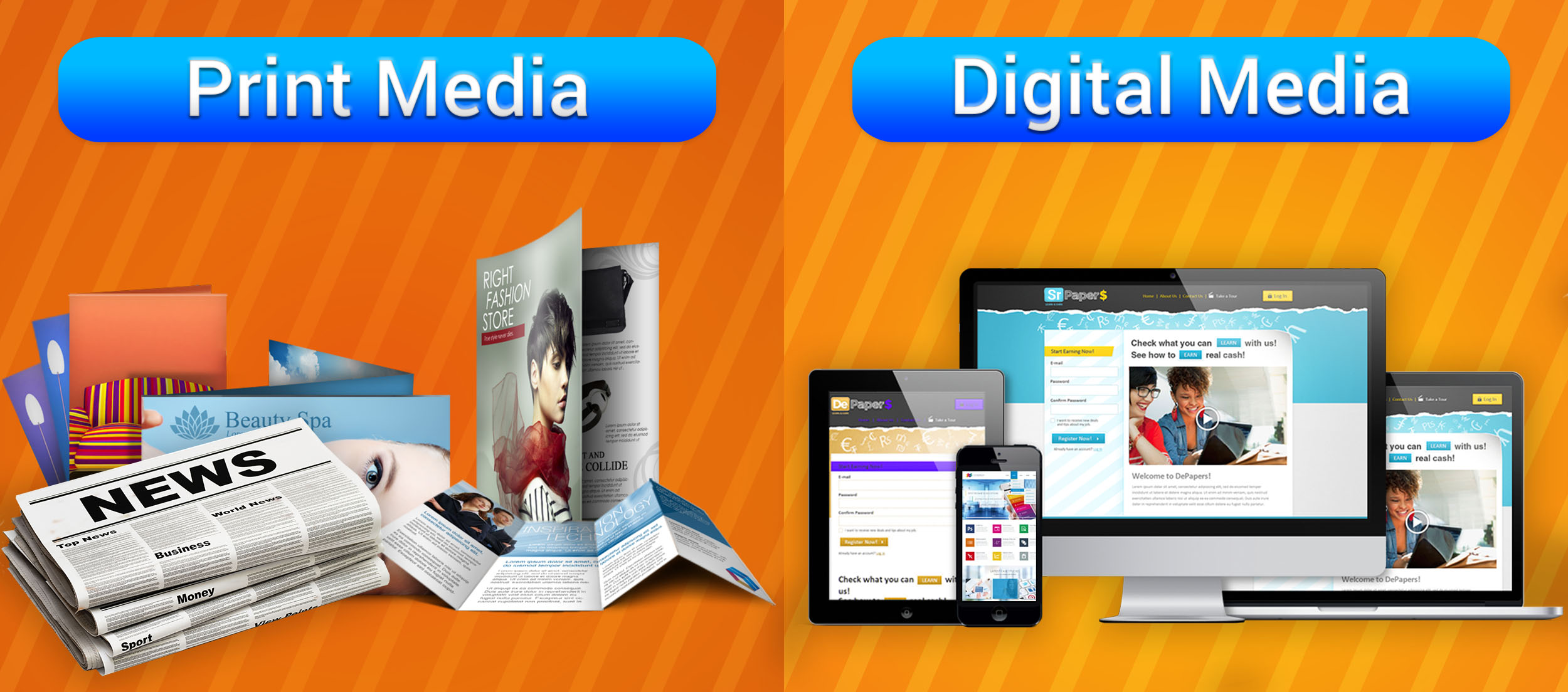 Less and less individuals are getting their news from traditional sources, while the number of online users continues to rise. Using the Internet is already the number one method in 2016 for adults age 18-49 to obtain their news. With more and more people having mobile access to the Internet, digital marketing strategies are becoming the most successful tactic for attracting new clients.
While businesses in the past might have sought out Yellow Pages as their main source for traditional marketing, Yellow Pages as of today is slowly in decline! Even with Yellow Pages switching onto a digital format, they are still not as cost effective as new internet marketing strategies.
What is Online Marketing?
Online marketing is a way for a person or business to gain an Internet presence for people to find out who they are and what they offer to their community. There are many different ways to promote yourself online, one of which people are quite familiar with is a website. In a traditional marketing sense, this is the digital equivalent of a catalog or brochure that may help establish your business' identity.
Social media platforms such as Facebook and Twitter are great tools for desensitizing information and news about your business. They are a medium that lets a business and their community create a dialogue about topics such as:
Products
Events
Reviews
and much more!
Apart from acquiring new clients, keeping old clients entertained and engaged is another aspect of online marketing.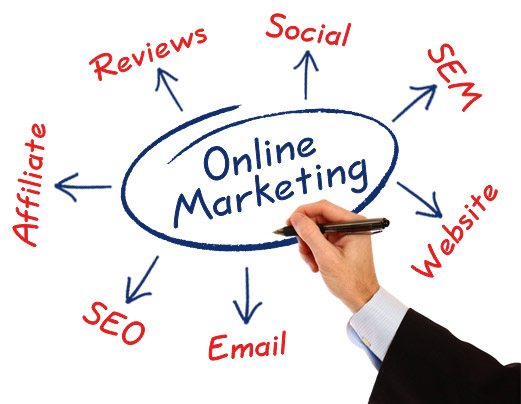 Websites however, are not the only way to market yourself online. One of the most successful traditional marketing strategies that can also be utilized on the Internet is ads. Advertisements can be displayed on many locations of the Internet, including on social media webpages and search engines. There is also a great degree of difference in the types of ads that a business can purchase such as simple text advertisements to eye catching banner ads depending on your marketing needs.
Video and audio segments can be utilized online to much of the same effect as a radio advertisement or television commercial in traditional marketing. One thing that is different however with audio and video is that if it is published online, it can potentially remain visible much longer than that of a set advertisement campaign from a traditional sense. It is also much easier to change an advertisement campaign on the Internet because there are no materials being involved in the process and no physical resources being depleted.
How Internet Marketing Can Help a Business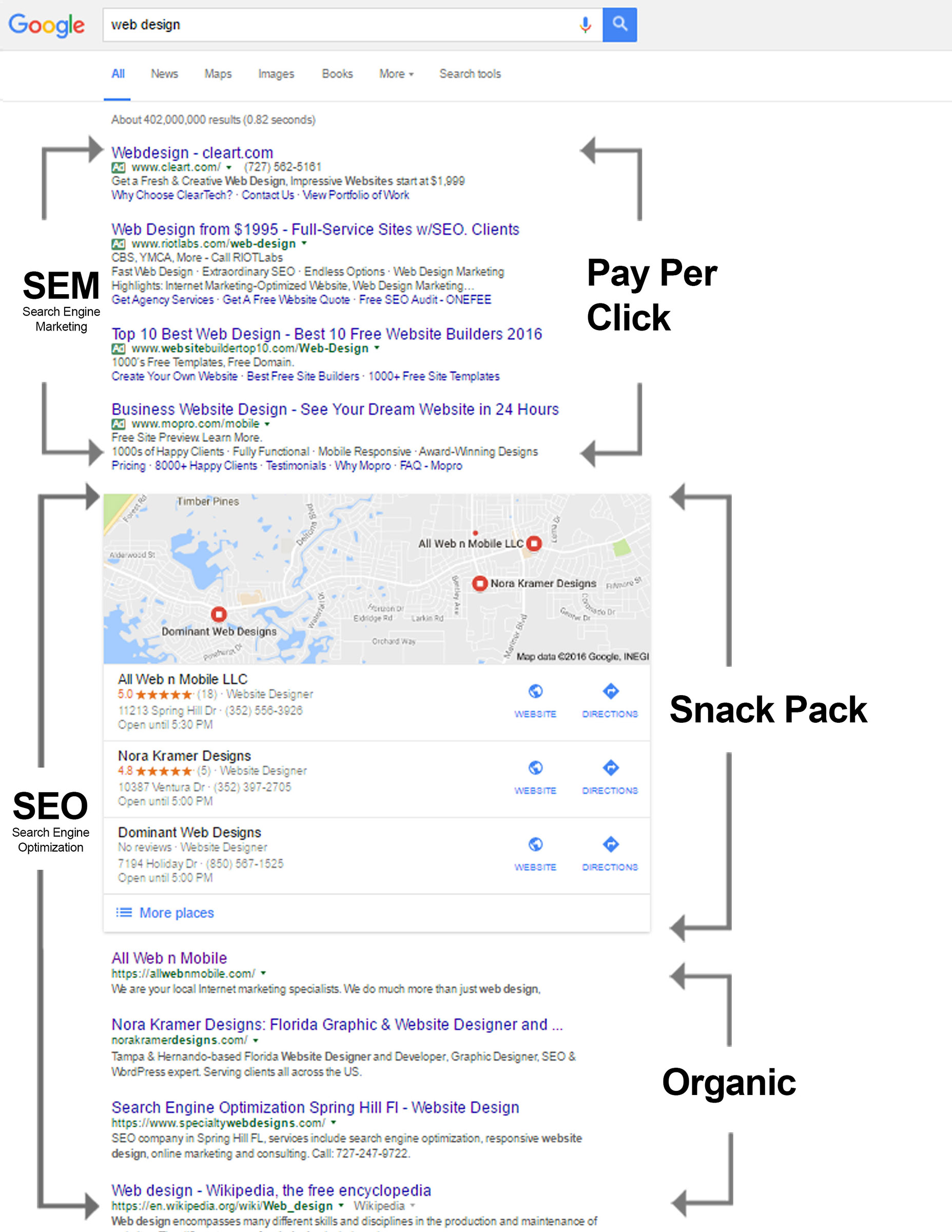 Digital marketing has one goal for a business: drive traffic to your website and help increase conversions. All forms of Internet marketing will expose your business and website to a wider audience, and increase your interaction with potential leads. Some strategies are geared towards a new audience, while others are used to retain and inform your existing clients.
For potentially acquiring new clients and customers, The top strategy that 85% of retailers said helped them the most with new client acquisition was search engine marketing (SEM). Search engines play a huge role in how individuals navigate the Internet and find products, services, and information. Additionally, search engines also have a big part in how businesses perform online marketing.
Search engine marketing includes all strategies that require some budget or amount of capital in order to see measurable results; this is how ads are displayed on the Internet. One popular form of this type of advertisement would be paid channel marketing and pay-per-click ads (PPC). These ads are particularly popular for businesses because they are great for attracting the attention of mobile search users, which we now Know as being the fastest growing medium for information and news.
Another form of online marketing that many people have become familiar with is known as search engine optimization (SEO). This strategy and other organic strategies involve optimizing your website and webpages for search engines such as Google or Bing, in order to show up more predominantly in search queries. Individuals interested in search engine optimization should be aware that this form of internet marketing is generated organically over time, which means you cannot pay for higher ranking website immediately from another entity.
Paying for Internet marketing is no guarantee to attract and retain new clients for your business, but it is a one option for helping to drive traffic to your website and potentially increase your company's conversion rates.
Fresh Content is Key to Internet Marketing!
Even if you plan on using most of your online marketing budget on paid channel marketing, one of the key aspects of any successful Internet marketing campaign is to produce content regularly and keep it fresh. There are many strategies that can be used for a business and their Internet marketing venture, but one thing that search engines and consumers like to see is a website that is constantly producing content about their products, their services, and any changes or new ideas happening for your business.
There are many different ways that a company can release content writing for their clients and potential new business online. Content writing in the form of articles and blogs are a great way to keep content fresh. Content marketing is often times confused by people with social media marketing, which is understandable because they have similar methodologies, but they are no way related strategies.
Writing content for your businesses website is a great way to market your company because it keeps existing clients up-to-date and engaged while also potentially attracting new business when combined with search engine services such as search engine optimization. Websites are not the only asset for your business that can be optimized to showcase better results in search engines:
and many more variables are also considered by search engines.
Having new and continuous content is the best way to organically attract new clients. This would never happen if a company uploads no content or even worse, uses duplicate or plagiarized content! Taking someone else's work and passing it off as your own on your website has huge negative repercussions that can lower your Internet visibility and potentially, have you blacklisted from search engine queries all together.
Has Your Business Considered Maximizing Emails?
Another aspect of Internet Marketing that is important for businesses is maximizing the potential of all digital avenues and technology. Emails for example, are often only seen as a way for professionals to communicate back and forth, but they can be so much more! A study performed a few years back shows marketers suggested the ROI offered from optimized Email systems and Email marketing is excellent and should be considered by business owners looking for additional marketing strategies.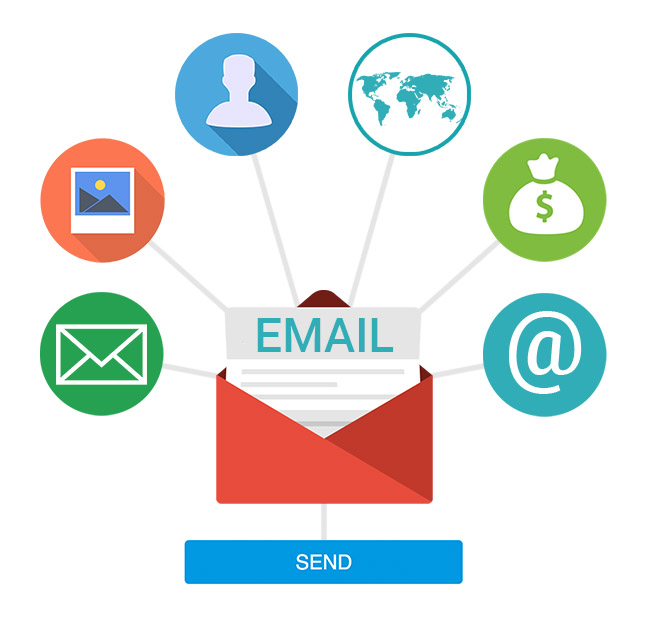 As a business, it is important to have some sort of email communication system for your company not only for business-to-business communications (B2B), but also as a way for your clients and community to get ahold of you with questions and concerns. Once you have an email for your website, you can utilize unique marketing strategies for already existing clients. Have you ever been a part of a weekly or monthly newsletter because of a product or company? This is one of the strategies that can be used by a company that has Email.
Weekly or even monthly newsletters are a valuable resource for recurring customers to view as it can offer them updates from your business. In your newsletter, you can talk about upcoming products or services to keep your clients engaged and give them a reason to keep coming back.
Apart from newsletters for an Email system, another tactic that works well with emails are reward programs or discounts. Coupons are a great example of something that can be combined with Emails and given out to repeat clients for their service and loyalty. It helps the business retain clients and helps the clients potentially save money!
What about a Mobile Business App for Internet Marketing?
Mobile business applications are in no way related to any traditional marketing strategy. Mobile apps are gaining in popularity as more and more individuals are upgrading to smartphones and tablets. A lot of people are under the impression that mobile applications are only for games or a faster shortcut to load a webpage, but this is not true!
One industry that is warming up to the idea of integrating a mobile application's capabilities into their day-to-day work endeavors are small businesses. Years ago, only large corporations with a lot of brand recognition would have a business app, but now small and midsize businesses are picking up on the mobile trend.
According to a study done by Flurry Analytics which represented the percentages of time spent on IOS and Android devices, on average, users of both devices spend 86% of their time looking at or using mobile applications. In this same study, it was reported that Google applications and Apple Safari made up the remaining 14% of a user's time on their smart devices.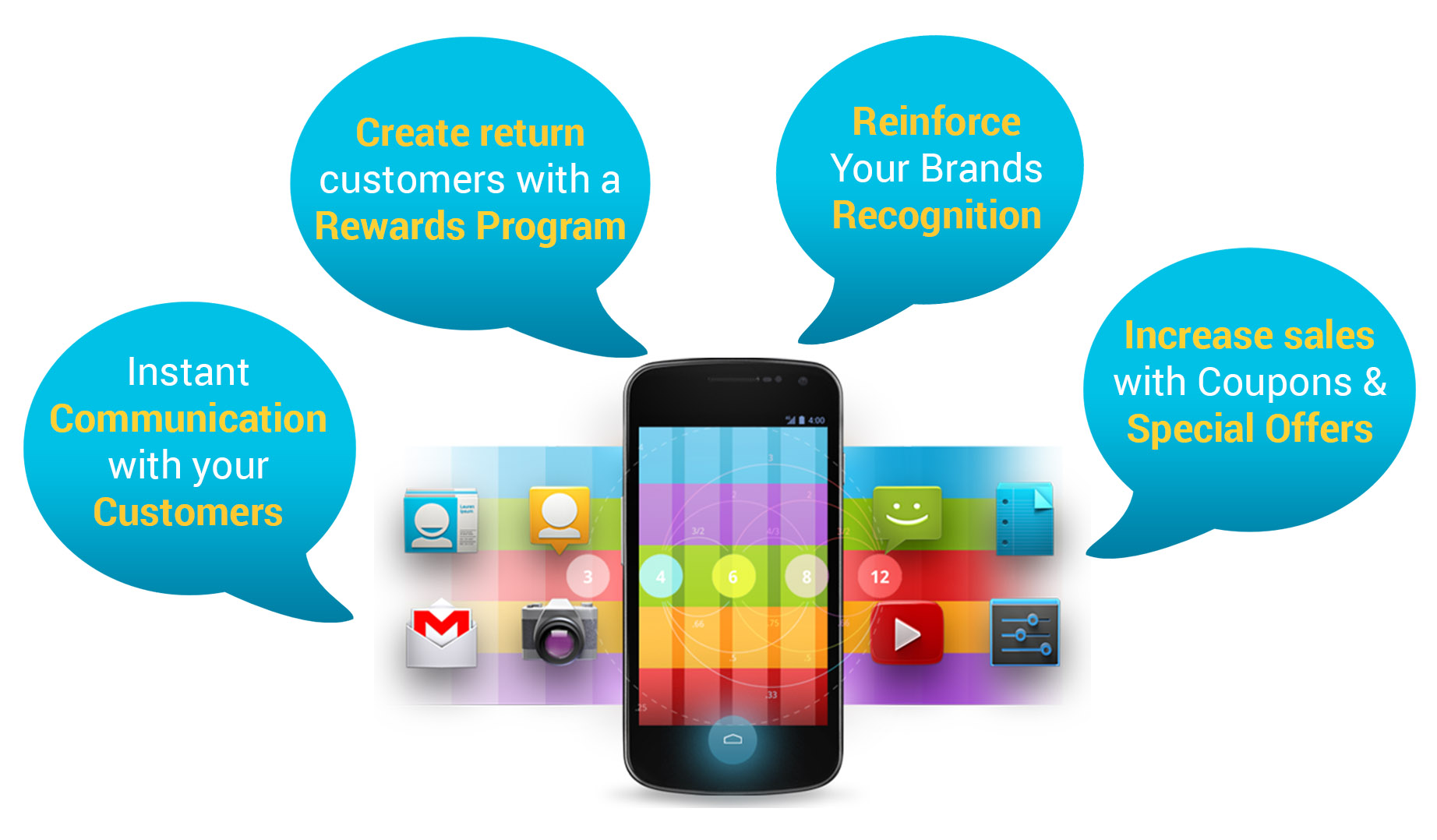 A great utilitarian purpose for a small business owning their own mobile app is to create a direct link from users to your business. Some of the information that can be provided to the individuals who download your business app are:
General Info
Prices
News and Updates
Specials and Sales Promotions
Messaging and Contact Information
Mobile applications are useful for consumers who do not have the time to go to your physical location during your normal hours of operation. Not only will they have access to general information, but potentially the can even make an online purchase through your mobile app without you physically working.
One feature that can be added to a website or mobile application is the integration of an E-commerce system in order to accept payments and take billing information.
A study performed by the U.S. Department of Commerce in 2016 suggests that more than half of all global Internet users have or continue to make online purchases. At that time, the statistics had shown that there was more than one billion people who activity made online purchases. More and more people are becoming comfortable with making their purchases online rather than physically going to a store for their products or services.
Apart from mobile apps being able to take payments, another Internet marketing strategy that can be implemented through a mobile application for a small business is some sort of reward system for your clients. Rewards systems are a great way to keep existing clients coming back to your location, while clients get the opportunity for some free or reduced products. Additionally, a business that offers a reward system can also make it easy to offer exclusive deals to users who have downloaded their mobile app.
Final Thoughts on Internet Marketing
By the end of this article you should have a better understanding on the brief basics of Internet Marketing, how the process works and some stipulations for Internet marketing, as well as some strategies and techniques that are used by small business owners to have more presence on the Internet and in their community. There are many more strategies now that can be used for modern business owners that cannot be achieved by that of traditional strategies alone.
Online Marketing is a lot for any one person to handle by themselves, especially if they are also in charge of running a business. At All Web-N-Mobile, we have the knowledge and ability to help with nearly every aspect of Internet Marketing and business solutions. Nothing is impossible with our combined experience and your drive to make your business the best as it can be.
In today's business world, it is almost imperative for any business to have an online presence where their community and global Internet users can benefit from their products or services.